I met Lea and Kevin when they were still expecting last fall.
It is such a joy and privilege watching them transform from an expecting couple to a joyful, young, loving family of three!
I always love photographing at locations that are meaningful to my clients. A few years back, Kevin proposed Lea at this gorgeous Palace of Fine Arts in San Francisco. Plus, they live just a few blocks away. So it was a perfect place for their San Francisco family photos.

As locals, Lea and Kevin know how tricky the weather can be in San Francisco. Lea suggested moving our session a few days earlier to avoid heavy foggy weather. Afterwards we all were so glad we trusted her feeling. That afternoon glow was such a joy to photograph! Karl, the fog was rolling out as we finished the session. Good call!

While preparing for the session Lea asked for styling help for their outfits. I couldn't resist including some blush and warm neutrals to complement the architecture of the Palace. They looked elevated casual yet timeless!

During our photoshoot little Jackson, San Francisco Marina baby, was braving the slightly chilly afternoon. He had fun flying in daddy's hands, getting cuddles and kisses from mommy, and sharing lots of his adorable two teeth smile.
The best part is that this adorable family is moving to East Bay, where I live, and Lea can't wait to decorate their new home with these portraits!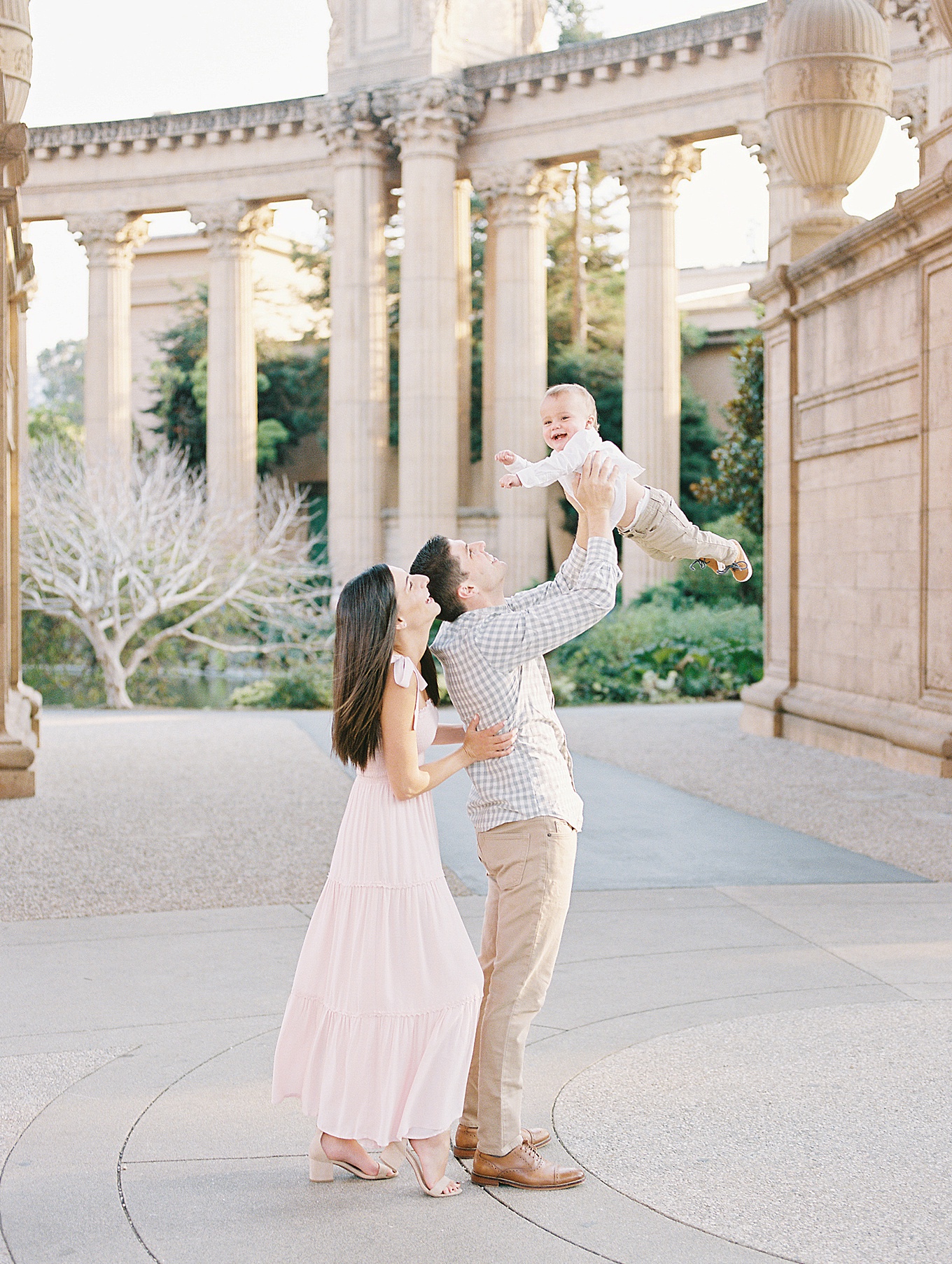 About artist.
Julia is a film portrait photographer located in Danville, Ca. She serves the greater San Francisco Bay Area. Julia specializes in maternity, newborn, and family portraiture. She documents in a simple and timeless style, and creates family heirlooms and art for your home. If you are interested to book your San Francisco Family Photos Session, contact Julia.
Film processed and scanned by the wonderful Goodman FilmLab