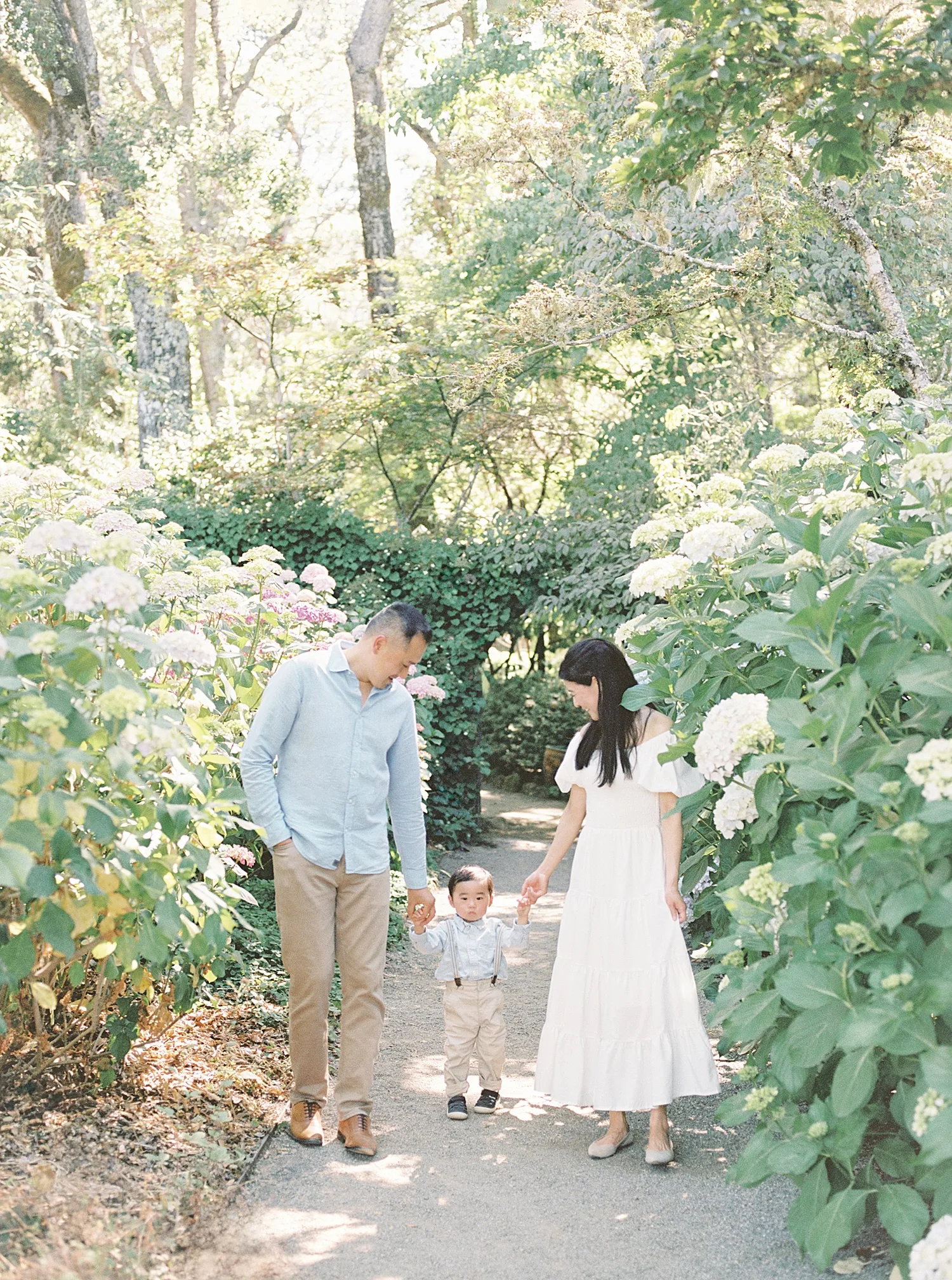 Recently, I had the joy of capturing a summer historical garden session, creating timeless memories for a beautiful family in the Bay Area. The picturesque setting with blooming hydrangeas and ancient olive trees provided the perfect backdrop for their family portraits.
Capturing Bay Area Family Photos in a Historic Garden:
During this delightful Bay Area family photoshoot, I had the pleasure of documenting the growth and joy of a cute toddler boy. From the time he was a tiny baby, I've been capturing his precious moments. And now, as he approaches his second birthday, it's amazing to see his unique personality shine through. His curious gaze and playful energy made the session even more special and unforgettable.
Timeless Elegance in Bay Area Family Style:
For this charming family, capturing their essence meant not only preserving their love but also their style. Mama wore an elegant cream dress that complemented the garden's natural beauty, giving her an ethereal glow. Daddy and son, on the other hand, wore timeless blue shirts and khakis, reflecting their classic charm. The little gentleman's adorable suspenders added a touch of playfulness that added warmth to their Bay Area family photos.
As a Bay Area family photographer, my primary goal is to capture genuine emotions and create timeless photographs that families can cherish for generations. Witnessing the pure love and laughter between family members is a privilege that fuels my passion for photography.
Memorable Garden Setting for Bay Area Family Photos:
The garden's enchanting atmosphere served as a canvas for this family to express their love and joy. The blooming hydrangeas and ancient olive trees symbolized the enduring growth of their bond, while the warm sunlight created a golden glow, accentuating the happiness they shared.
Preserving cherished moments through Bay Area family photoshoots is a source of great joy and fulfillment for me as a photographer. Capturing the essence of a family's love and connection in a historical garden setting was truly special. If you're looking to create lasting memories with your family, I'd be honored to be your Bay Area family photographer. Let's create beautiful portraits together that you can cherish for a lifetime.