The best time for a newborn session is when the baby is 5-14 days young. I do sessions in the comfort of your house. I generally take pictures in the nursery, parents' room, and living room! If the weather permits we can take a couple shots on the porch or backyard. I like my newborn pictures to tell a story of the family, and a big part of that story is where they live!
Newborn sessions can be slightly longer than the average portrait session and generally last closer to 2 hours. I like to give a newborn and their family time for feedings, burpings, diaper changes, snack breaks, etc. during our session. I don't want anyone to feel rushed, hungry, or uncomfortable and therefore book plenty of time for newborn sessions.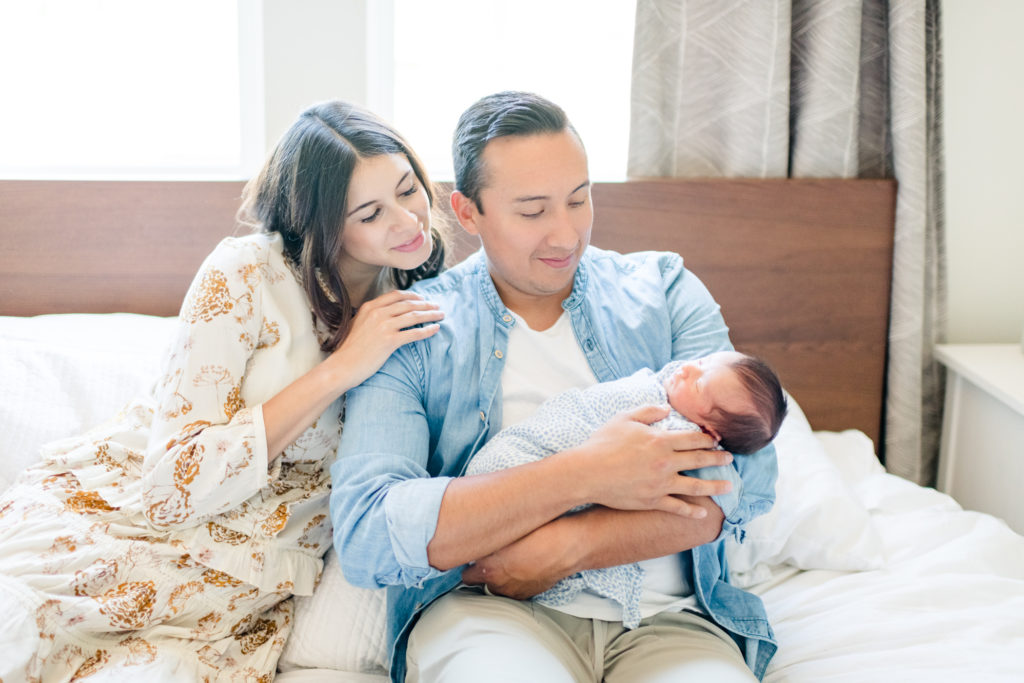 ---
BABY
In my opinion, newborns are best photographed naked, in a onesie, or in a swaddle. I like to use a newborn's personal swaddles and blankets during our session! Make sure you have any swaddles, blankets or other props you want to use out and ready at the beginning of our session.
Please keep the baby awake for at least one hour before the session start. And feed the baby right before we start.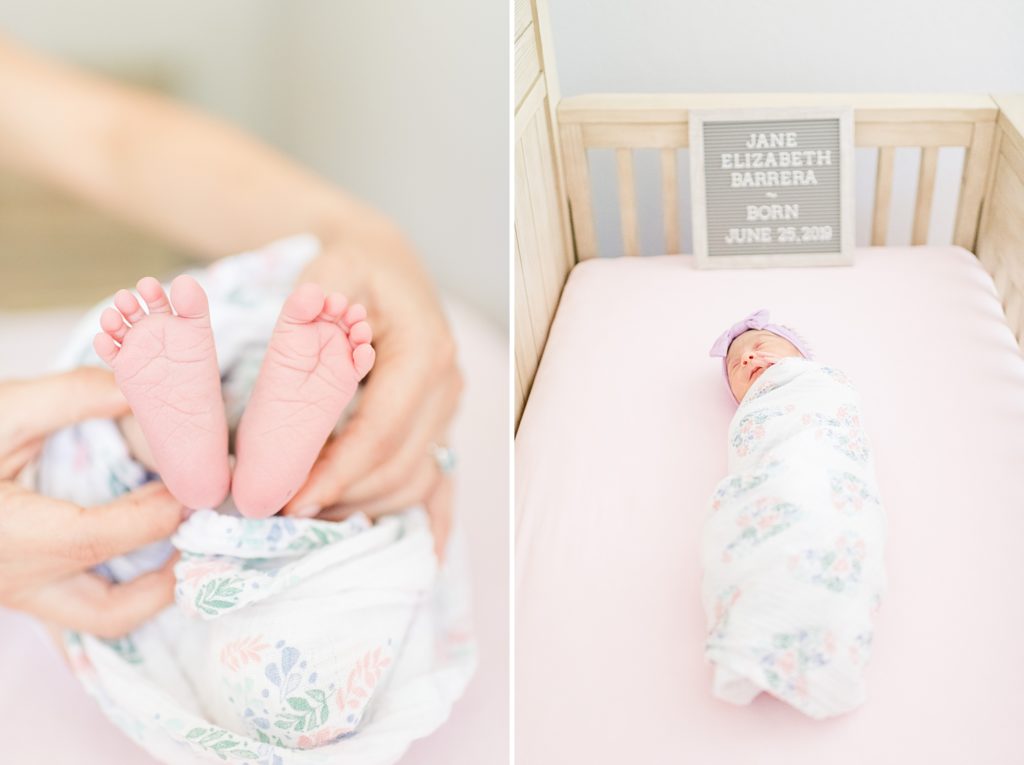 ---
FASHION TIPS FOR HER
What To Wear? I Just Had a Baby!
You may want to pop on a comfy, forgiving maternity dress, a loose sweater or t-shirt and leggings, or wear a pretty printed robe. I always suggest wearing complimentary colors, not exact matching for a more crisp, clean picture.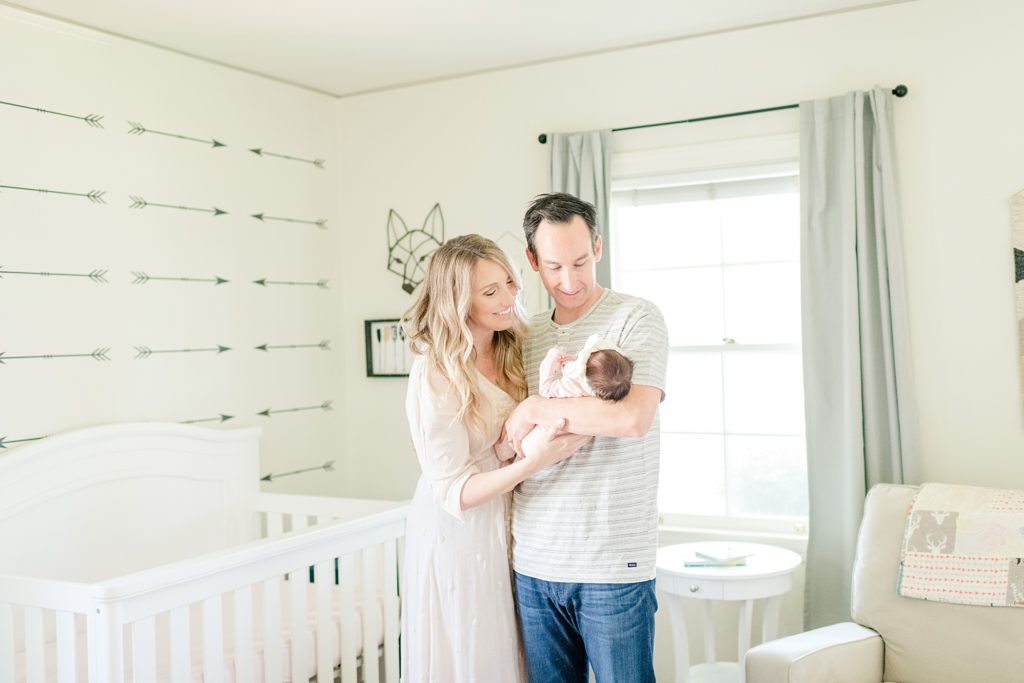 Choosing Colors
When choosing colors for your outfits, I recommend selecting softer, lighter tones and more muted shades. By avoiding ultra-bright, bold colors, it will help bring all the attention to your faces and let the eye focus on the way you feel about each other. The camera loves shades of soft pink and muted blues, mixed with sophisticated light neutrals like heather gray, creams, leather brown and white. Being that you will most likely have these images framed in your house at some point, pick colors that go with you, your style, the style of your home, etc.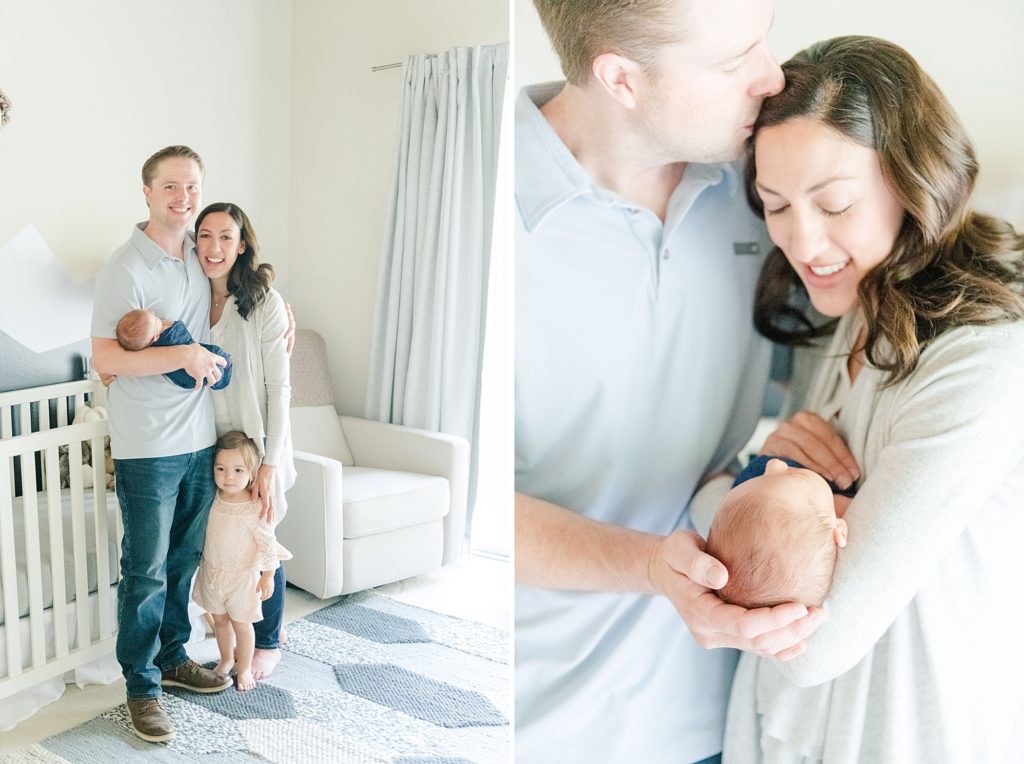 Flattering Your Features
In my experience, every woman regardless of her shape has an area of her body that she's self-conscious about, so recognizing what area that is in advance is key. Choosing flattering silhouettes and colors that complement your natural features is the best way to ensure you'll love the way you look in your photos.
Three-quarter length sleeves create an awesome slimming effect on all arms, so be on the lookout for an option with a longer length sleeve. Skinny straps or strapless dresses have the opposite effect on arms on camera, so I recommend avoiding those whenever possible if your goal is a set of slimmer-looking arms.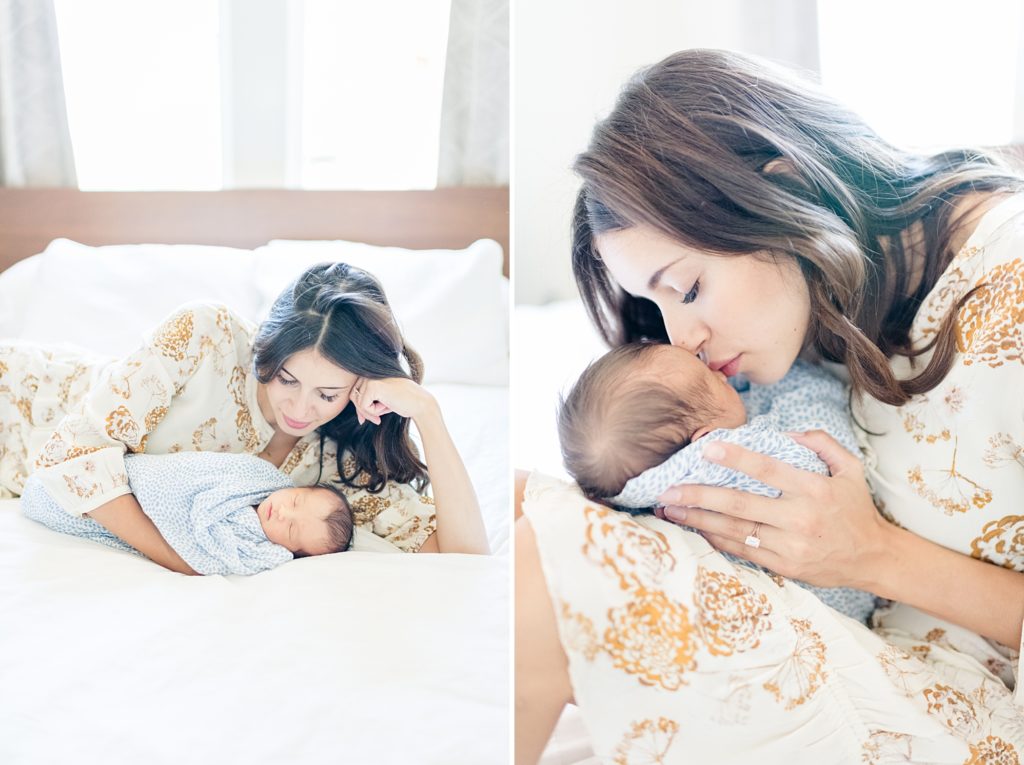 I will be capturing lots of detailed shots including a baby in your arms, so manicure or neatly trimmed nails will look so much better on the pictures. This applies to daddy as well.
You will be barefoot during your session, so you might want to schedule a pedicure as well before your session so you don't regret letting your feet show.
These little tricks make all the difference!
Make a Statement
Pairing an accessory or two with your outfit can really help bring some extra dimension to your images, and be a nice tie-in when you're coordinating with a group. I love the smaller, delicate accessories for newborn sessions not to distract from the main subject of the session.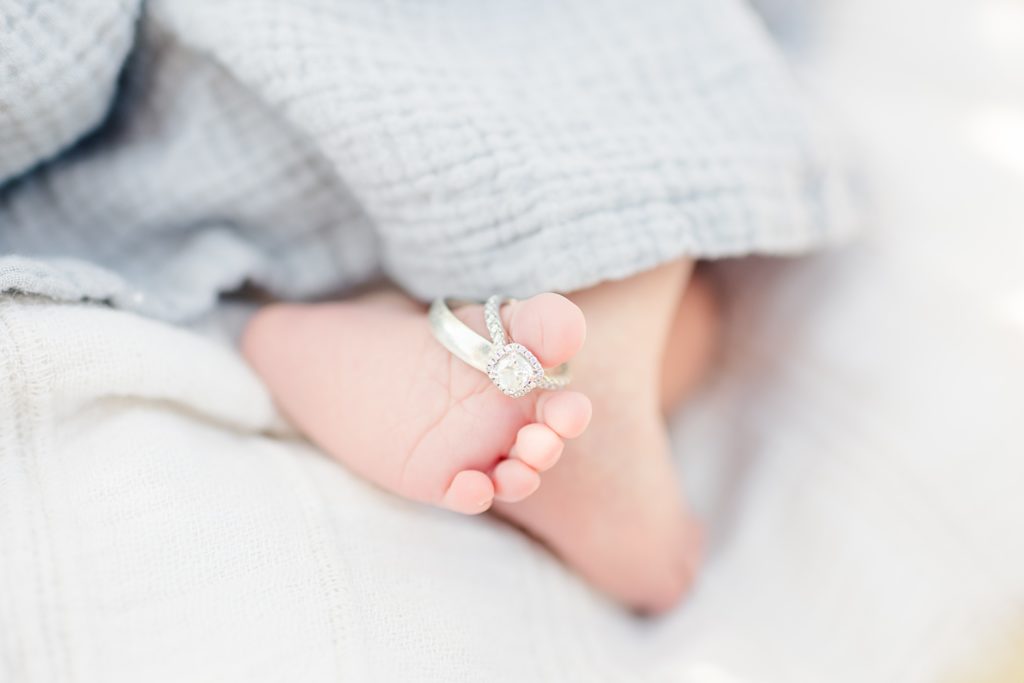 Hair & Makeup
Professional or at home hair and makeup is on the top of most of my clients' checklists because it looks amazing. This is the time to treat yourself! Whether it's lash extensions or blown-out hair, professional hair and makeup will give you an extra boost of confidence in front of the camera, and it always photographs like a dream. If you're working with a makeup artist, have her apply your makeup in natural light, if possible, so that it looks fresh and not too heavy.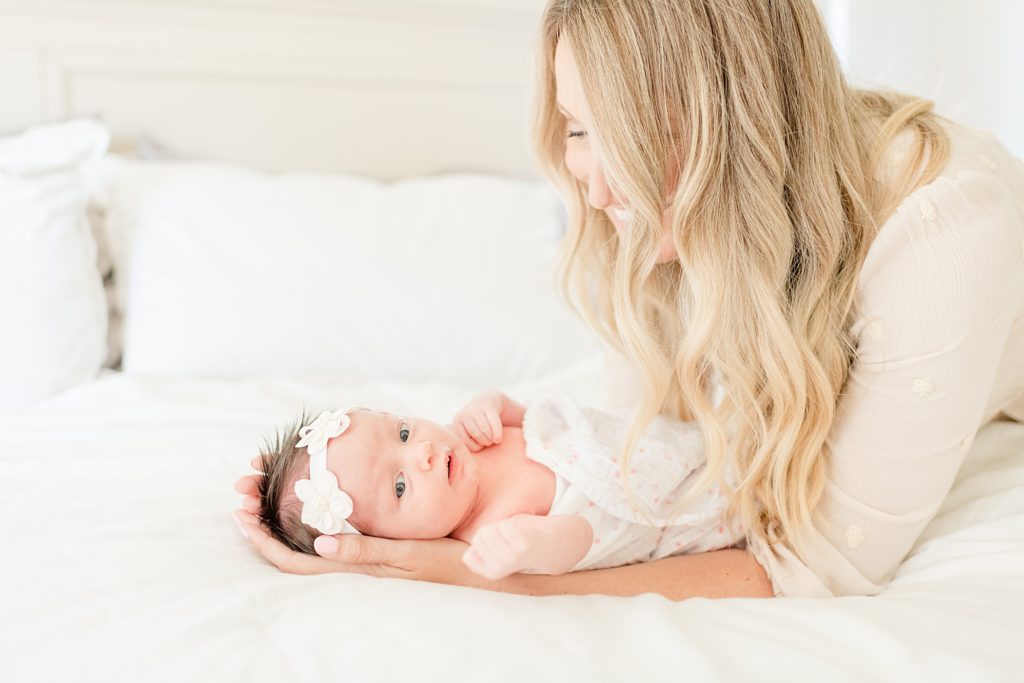 ---
FASHION TIPS FOR HIM
The Best Fit
Solid colored short sleeve shirts or polo shirts place the attention where you want it: on his handsome face. Fitted pants, jeans, or fitted colored pants work best on camera. Solid shades of gray, sand or navy are a strong compliment to most women's outfits. I also recommend staying away from graphics and logos, as well as any pants that are loose or baggy.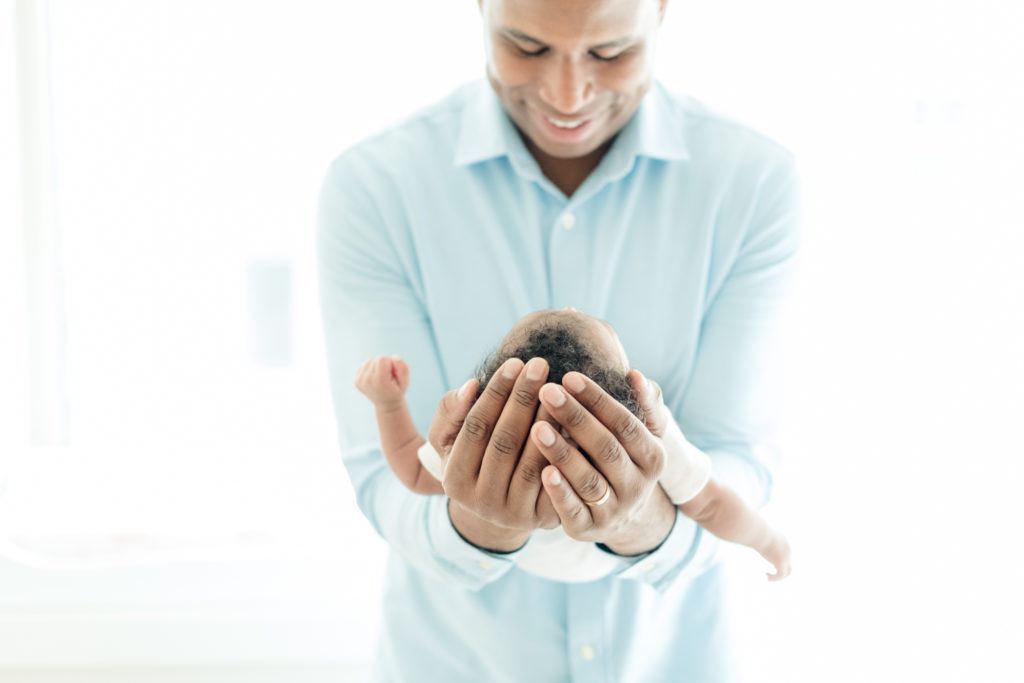 ---
Coordinating the Crew
As you're coordinating your outfit with your family, keep in mind that your outfits will look the most cohesive on camera when the color palette and wardrobe pieces coordinate, but don't actually "match." In fact, I recommend that you avoid thinking about "matching," and instead think about what "fits" together. This will create more visual interest, and allow each personality to shine through.